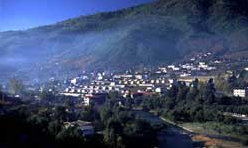 naturebeyond is a Travel Specialist based in Darjeeling District in West Bengal in the Eastern Himalayas with its branches at Kolkata, Guwahati and Sikkim. Its operational area stretches across the Trans Himalayan region with a strong focus to the less visited East Indian States like Sikkim, Bengal, Assam, Arunachal etc and it also covers the neighboring country Bhutan. The B2C division of naturebeyond markets the entire Indian as well as International travels to the discerning travellers from India.

We recognize Tours not simply as visitations, but as an amalgamation of rich and varied experiences for all.

The company came into existence in 2002 when its two founders Partha and Pallab decided to start a venture in tourism. Over the last few years we have come a long way and have diversified into a number of areas related to tourism.

Domestic B2B Division – Lead by Kanchan, our B2B division named 'Tripsy' offers standard packages for travel agents from all over India. Tripsy offers competitively priced holiday tours for East and North East India especially Darjeeling, Sikkim, Bhutan, Assam, Arunachal and Meghalaya.

B2C Division – naturebeyond has been the favourite tour operator for a large number of individual travellers for a long time. We have decided to extend our services to our guests beyond North East. Today naturebeyond offers tour packages to all over India as well as abroad. Our B2C division is branded as 'mytourideas.com' and through this website and others we continue to offer our unique range of tours.

Inbound and Key Accounts Division – Headed by Pallab, founder director of naturebeyond, this division is intent on giving a newer dimension to the idea of tourism. The human landscape of a place is as important as the natural one. Each tour is handpicked and a unique experience is created for the discerning traveller to suit his or her taste.

Dreamalayas – An eco-tourism initiative of naturebeyond, Dreamalayas is an effort to create small eco-lodges and homestays throughout the region. Our first couple of ventures are about to be launched.